Obtaining and using green hydrogen is another route towards energy transition. At Iberdrola Mexico we know that foresight plays a crucial role when it comes to generating energy and taking care of the planet, and what better than to do this in a sustainable way?
We are aware that hydrogen is the most abundant element on Earth and that it is a universal, light and highly reactive fuel. However, it is rarely found in isolation. The known methods for obtaining this gas are not very sustainable, but there is now an alternative known as green hydrogen.
Why is it called green hydrogen?
It is since no carbon dioxide is released into the environment during the process to obtain it. This is done using electrolysis, a chemical process in which hydrogen and oxygen molecules, contained in water, are separated.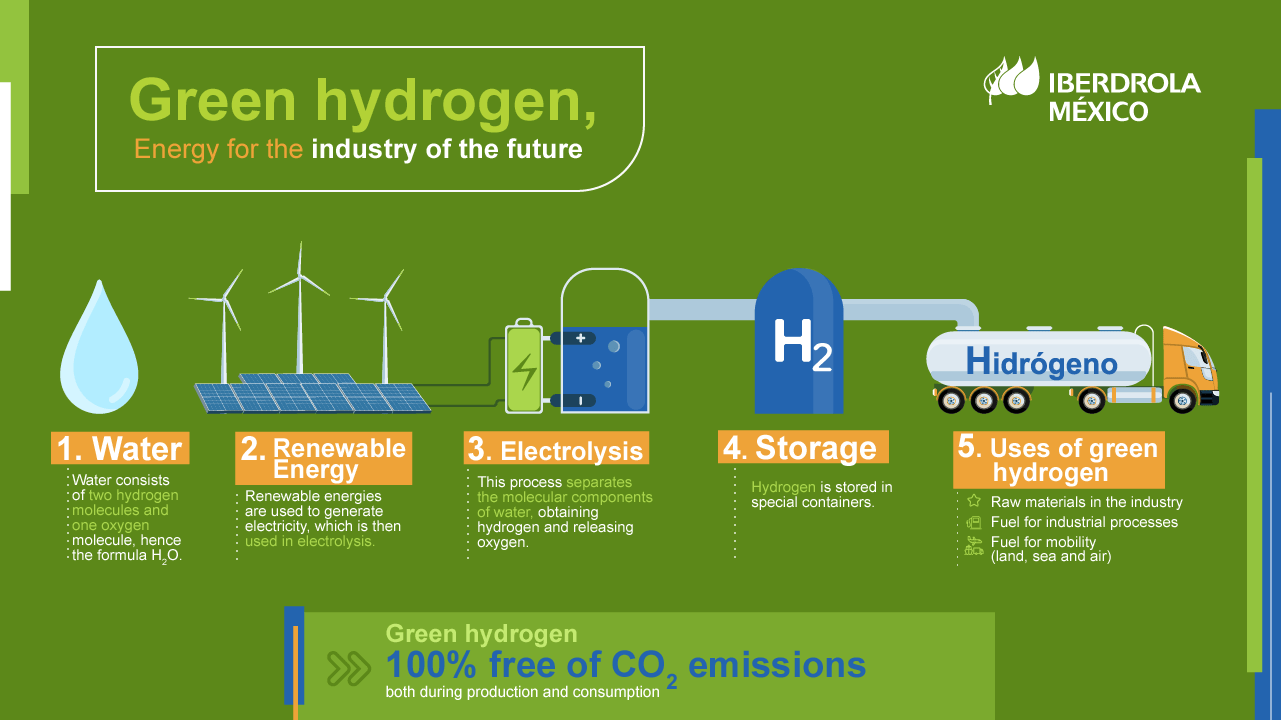 How is green hydrogen used?
Its current use is mainly industrial, for instance to manufacture ammonia and methanol, as well as oil refining. However, its characteristics are such that it may be used soon, to generate and store energy and produce heat, from steel plants to heating in the home and transport (private cars or public transportation systems).
What is its greatest advantage?
Being able to obtain it using renewable sources; in other words, electrolysis requires electricity (as its name suggests) which can be generated using wind and solar energy systems. The hydrogen obtained can be used in different industries and the emission of pollutants into the environment is avoided throughout the process. It is also easy to store and can be conducted through the same channels and infrastructure as natural gas.
When will it start being used?
There are already countries in Asia and Europe with advanced projects in this regard. Iberdrola in Spain is developing an initial project as a group.
According to the International Energy Agency (IEA), obtaining green hydrogen in this way could mean cutting the CO2 emissions produced when this gas is obtained using fossil fuels by 830 million tons a year.
The decarbonization of the economy will be a reality because our planet needs it and now is the time to begin making big and small changes, and backing green hydrogen is one of them.
Sources: Spanish DW / International Energy Agency (IEA)