Working from home, doing research for an assignment using the Internet, charging our mobile device, and making sauce using a blender are some of the most common activities in average Mexican households, and all of them need electricity. These daily activities can lead us to believe that all the houses and workplaces in our country have bulbs, blenders, refrigerators, and functional plugs, but the truth is that there are some regions in Mexico where people still do not have access to electricity owing to their geographical conditions, and they have always been lightened by sunlight until the night falls, when they use candles or lanterns, in the most fortunate cases. With these communities in mind as well as the possibility to improve their life quality through renewable energy, the Iberdrola México Foundation set in motion the Luces de Esperanza (Lights of Hope) program.
This social initiative has reached places whose location has hampered the installation of traditional electrical wiring. To resolve this situation, we installed together with Iluméxico solar panels that service homes, health centers or schools. In this way, beneficiaries not only can use devices like home appliances, TVs, cell phones or computers, but also can enjoy electric light at night allowing them to expand their productive and recreational activities.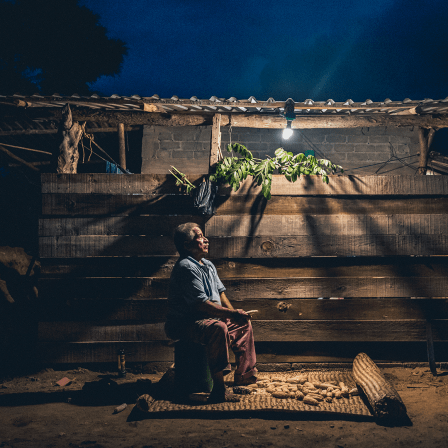 In 2019, Luces de Esperanza reached communities in the Huasteca Potosina and in 2020, complying with all the required security measures regarding the COVID-19 contingency, we succeeded in getting the municipality of Pochutla – located near the coast of Oaxaca – to install 95 equipment that will provide solar energy to households in nine communities, benefiting 380 people.
Stories of Hope
Odilia Hernández has lived in the El Zapotal community her whole life. The plot of land where she currently lives with her husband Félix and her two children, Camila and Eliazar, had belonged to her parents. When she married Félix, both agreed to live in this place, despite the lack of electricity service. Today, the family also uses it to raise poultry and other animals for business. Of course, this large outdoor space is used by the children to play and spend their leisure time after helping with house chores and doing homework. When the nights fall and there is no natural light, there is nothing left but sleep. It is important for the children to complete their schoolwork during daylight, while Odilia advances pending household chores.
However, what they like the most about electricity is the opportunity to have a small refrigerator to conserve their perishable food for longer and have ice made at home, a small luxury that will allow them to slightly cool the hot weather in their native land. Until now, they had to walk as far as 500 meters to get it.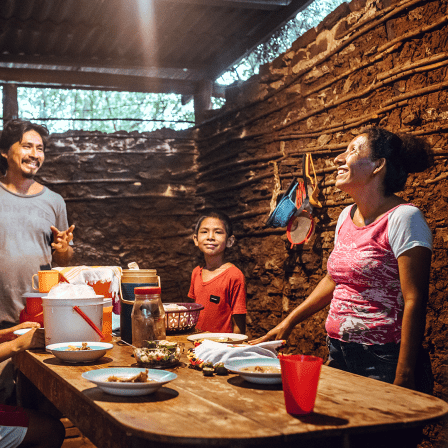 Furthermore, Félix – an avid reader that spends some of his leisure time enjoying his favorite works – is excited to tell that he will now be able to read Bible passages before bedtime.
And thus, stories like these are repeated in the voice of Mr. Apolinar or Mr. Simón Carreño, who – after several years of watching the lights of Pochutla at night from home – will be able to enjoy the great benefits of having electricity at home.