The investment will result in more jobs, economic growth and welfare for Mexico
New projects will imply purchases to the Mexican industry worth $3 billion dollars
The new power plants will start to be built this year in Veracruz, Querétaro, and Puebla
Mexico City, May 15, 2019. This morning, Alfonso Romo Garza, chairman of the Council for the Promotion of Investment, Employment and Economic Growth and Head of the Presidency Office, held a meeting with Iberdrola's president, José Ignacio Sánchez Galán, who outlined the company's plans to invest up to 5 billion dollars during the administration of President Andrés Manuel López Obrador.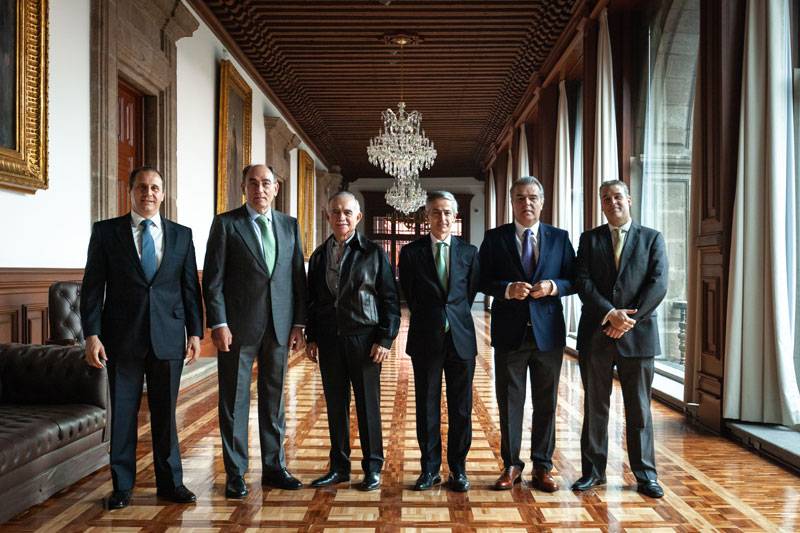 The announcement made by Iberdrola México, reflects that the country's economic context is favorable for triggering more investments, creating more jobs and achieving a true social development.
"We are fully convinced that Mexico's growth happens through cooperation between the private and the public sector. The investment announced today reflects investors' trust in our country, which results in greater wellbeing for those who have less", Alfonso Romo said.
At the meeting held at the National Palace, Sánchez Galán highlighted Iberdrola's commitment to Mexico, where it has been contributing for 20 years to its energy and economic development through a reliable, competitive and sustainable energy supply.
"We are firmly committed to Mexico's energy and economic development, the strengthening of its industrial sector and the creation of quality jobs, with more efficient and cleaner energy sources," Iberdrola's president said.
The company plans to invest up to $5 billion dollars in new power plants, both gas fired and renewable power plants in the 2019-2024 period. Therefore, it will help cope with the increasing energy demand anticipated for the next six years in Mexico.
This investment is one of the first outcomes of efforts carried out by the Council headed by the Office of the Presidency, which in turn will trigger new Iberdrola's projects that will create a significant number of jobs during the construction phase, adding to the 2,500 jobs the company has created over the past five years. Additionally, 450 direct jobs and 2,500 indirect jobs will be created during the operation phase of these plants, and over 100 young interns will be hired.
Iberdrola estimates that in order to carry out these new projects it will make purchases totaling more than $3 billion dollars from Mexico's industrial sector, which will foster the country's economic development.
In 2019, the company will start building three new plants: a combined cycle plant in Tuxpan (State of Veracruz), a co-generation plant in San Juan del Río (State of Queretaro), and a solar farm in the State of Puebla, totaling an investment of $1 billion dollars and a 1,500 MW installed capacity.
Thus, the Council operates as a communication bridge open to the private sector and the social sector, seeking to converge on a coordinated effort to work for the national economic development and setting forth conditions required to carry it out.