This date was proposed by the institution in 1972 with the aim of encouraging people to become active drivers of fair and sustainable development, promote the crucial role of communities in changing attitudes towards environmental matters and fostering cooperation to guarantee the environment's sustainability.
On this very special day for flora and fauna we would like to share one of the major steps we have taken to protect biodiversity in Mexico: the recovery of the Garrapatas estuary in Altamira, Tamaulipas.
Driven by our commitment to making a positive impact in the area, we worked together with the R&D Center in Port and Maritime Engineering (CIDIPORT in its Spanish acronym) of the Autonomous University of Tamaulipas, Asesores en Ecología y Medio Ambiente (Consultants in Ecology and the Environment or ASECMA) and the Comprehensive Port Administration of Altamira (API-ALT in its Spanish acronym) to recover this mangrove.
CIDIPORT personnel performed a diagnosis of conditions in the estuary and found that recovery would require restoring its salinity, which had been in decline since the 1970s leading to the disappearance of certain species and the deterioration of the ecosystem.
The mangrove is considered a sink for carbon. It absorbs CO2 from the atmosphere and retains it for thousands of years in the form of organic carbon in sediment deposits.
The foregoing steps enabled Iberdrola México, in its Altamira III and IV combined cycle plant, to perform the necessary adaptations to install pipes and taps to conduct water from cooling towers directly to the Garrapatas estuary. Over a three-year period (2003 – 2006), of the 2,000 m3/hour of seawater entering the plant 1,800 m3/hour were fully discharged into the mangrove.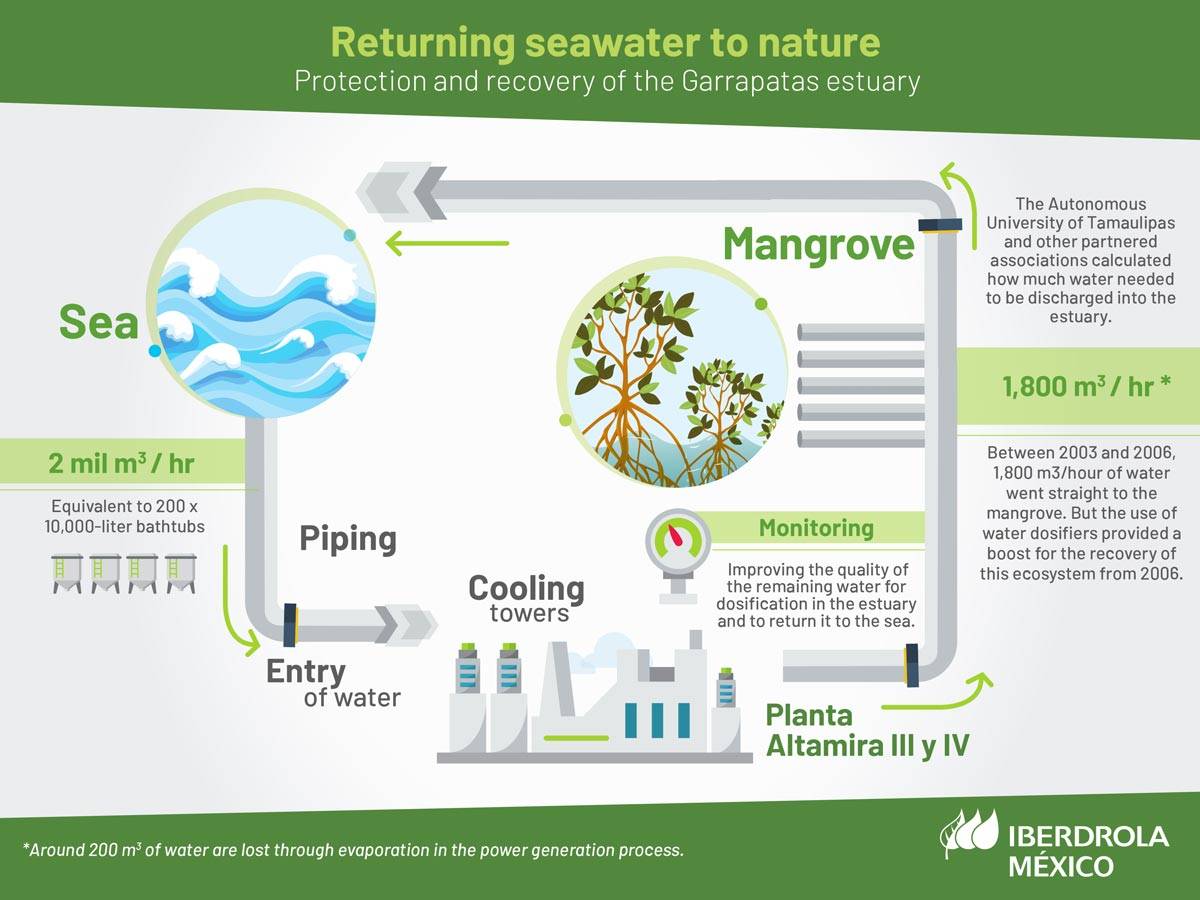 This activity was monitored by both the company and CIDIPORT to make sure the water was in optimum condition and that the steps taken were of benefit for the mangrove.
The Garrapatas estuary recovered, with bird and reptile species returning and salinity reaching healthy levels, which means there is no longer any need for seawater to be fully discharged into this ecosystem of over 140 hectares.
This drive has enabled us to restore to nature 90% of the water we use in our cooling processes at this plant with its installed capacity of 1,077 MW.
Iberdrola México is currently performing the discharges required by the mangrove based on an ongoing analysis by the University of Tamaulipas and partner associations, and any surplus is sent to the sea, thereby ensuring optimum water conditions through monitoring.
We at the company feel very proud about recovering this great ecosystem in Tamaulipas and will carry on working to create more benefits for the communities living near our plants in order to help protect the environment.